1. The original cash sales invoice from ETB group will be required as proof of purchase before any guarantee work can be carried out. The guarantee applies to price of tyre(s) on day of purchase/replacement.
2. Any car tyre under guarantee must be fitted with a new tubeless valve (where applicable) and the wheel tyre assembly must be balanced at the time of purchase.
3. The Tyre Accidental Damage Lifetime Guarantee can only be purchased on tyres which are fitted to a vehicle by ETB and excludes tyres fitted to lose wheels.
4. Tyres damaged by criminal or malicious action, vandalism, improper use, fire, theft, use in competitive sport, road accidents, repair by another garage other than ETB group, mechanical defect of the vehicle, driving on incorrect pressure or a deflated or punctured tyre are specifically excluded from the cover under this guarantee.
5. Your Tyre Accidental Damage Lifetime Guarantee applies from the date of your purchase, is not transferable to other vehicles or persons and is valid for the life of the tyre for which it was purchased.
6. Tyre Accidental Damage Lifetime Guarantee is available to private motorists only. Taxis, motorcycles, vans, private hire vehicles, driving school vehicles, company owned cars, cars used for business or commercial purposes are excluded.
7. Tyre Accidental Damage Lifetime Guarantee applies to all passenger tyres in any speed rating. Run-flat tyres cannot be covered by this guarantee
8. Replacement tyres supplied under the guarantee will not be guaranteed from the date of original purchase. A new guarantee can be purchased by the customer for the replacement tyres.
9. Puncture repairs to British Standard BSAU/159 9. can only be undertaken in the repairable tread area of the tyre. (Repairable area marked in green )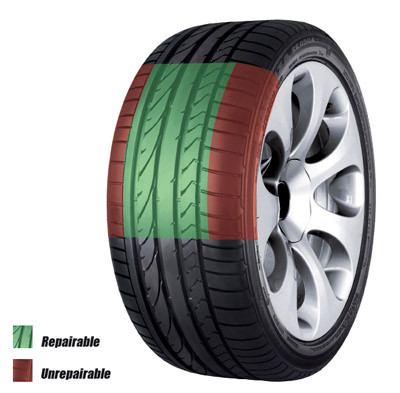 10. Puncture repairs must be completed at a branch of ETB. Tyre Accidental Damage Lifetime Guarantee is invalid if the tyre is removed or repaired by any other company or individual
Your statutory rights are not affected by the terms of this guarantee.