Most UK motorists know that electric vehicles are seen as the future, with petrol and diesel cars being banned from sale in 2030. But only a tiny percentage know that Bridgestone is revolutionising its tyre technology to keep electric vehicles going for more miles between each charge. Electric car tyres compared to normal standard tyres have a very different tyre specification, and perceptions about those humble black and round 'boots' are about to change for good.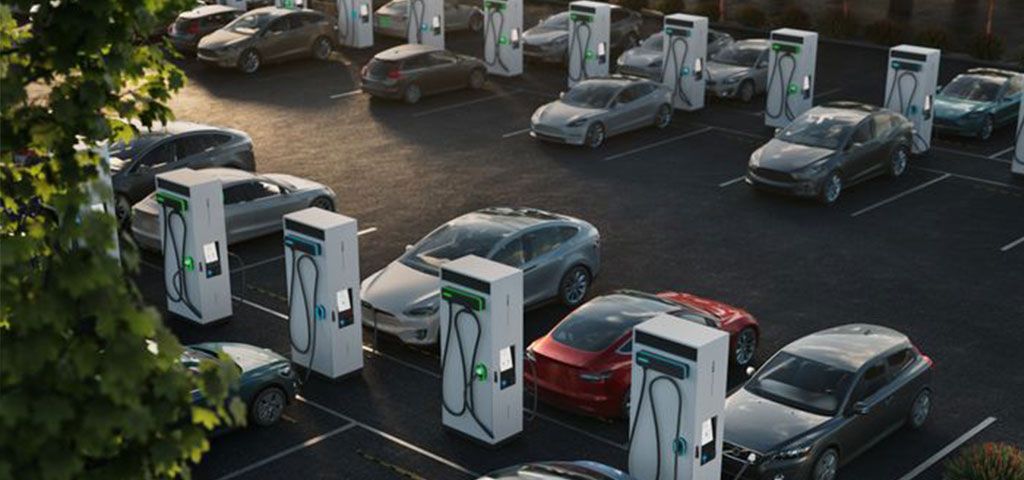 Why are EV tyres so important?
EV tyres are considered more durable due to their increased weight and manufacturing for electric cars, overall making the tyres safer and last longer compared to a normal tyre. The design and technology behind Bridgestone EV tyres is critical because the specification allows each car to travel for more miles between charging points. This saves time, money and creates convenience. Recent Bridgestone research found that, of the European drivers who would not consider purchasing an electric vehicle, 50% cited range anxiety (worry that the car battery will run out of power before the destination) as reason to not purchase.1 Compared to a normal car tyre, the Bridgestone EV tyres will absorb the extra weight of the electric vehicle with specifically designed and manufactured tyre tread and side wall strength, meaning more miles are possible and peace of mind for electric vehicle owners.
Bridgestone is leading a successful vision in tyre innovation, creating tyres that are more energy efficient with the portfolio of premium tyres and tyre technologies available. Committed to continually working towards creating a more sustainable future and address the electric car industry's greatest challenges.
Are Bridgestone EV tyres more energy efficient?
To help save car battery life, Bridgestone EMIA has reduced rolling resistance (forces that work against the forward motion of your vehicle) in its replacement tyre portfolio for passenger cars by an average of 15 per cent over four years, representing an increase in range of 8-10 per cent for EVs.2 The increased weight and torque (rotation force) of EV tyres compared to combustion engine vehicles presents new safety considerations.
Bridgestone's portfolio of premium EV tyres and tyre technologies are engineered to provide excellent handling and control, short braking distances and exceptional grip in all weather conditions. In fact, the latest generation of Bridgestone's replacement tyres in the touring and sport segments boast the highest wet grip label grade for optimal safety.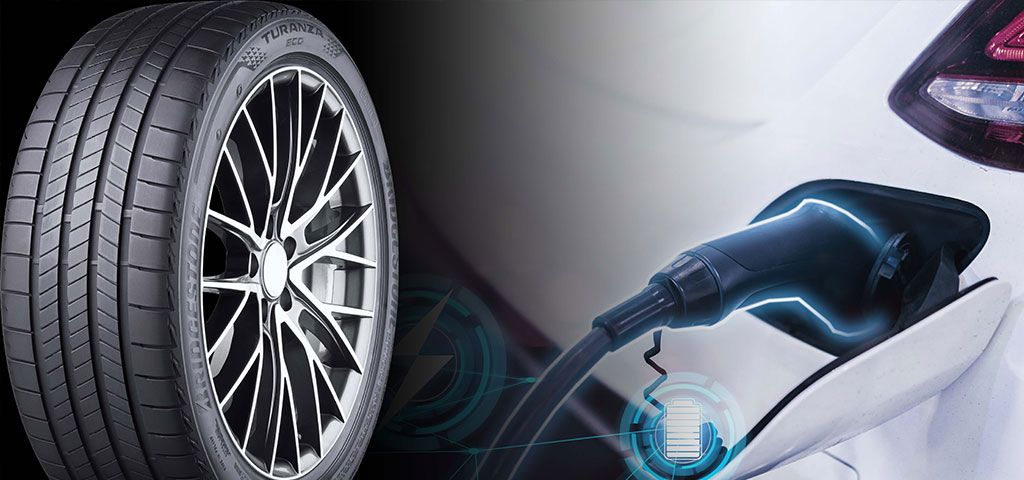 Will EV tyres save me money?
Yes. Bridgestone's TECHSYN technology extends the designed lifespan of tyres made with it by up to 30 per cent3, to ultimately result in a tyre that needs to be changed less frequently and reduces the consumption of raw materials in the long-term.
Minimising Rolling Resistance
A tyre for an electric vehicle should have the least rolling resistance possible, this is to maximise the affect on battery life, something we know car owners are concerned about. Enliten is Bridgestone's latest breakthrough technology which reduces the rolling resistance of a passenger tyre by, on average 20% from a standard premium summer touring tyre. This enables tyres with embedded Enliten technology to help reduce fuel consumption and CO2 emissions in combustion vehicles, while also extending car battery life and vehicle range in electric vehicles.
Bridgestone's Enliten enables passenger tyres to be reduced in weight by, on average, 10 percent from a standard premium summer touring tyre. This not only ensures that less raw materials are used to manufacture the tyres, but also contributes to the reduced rolling resistance.
EV Tyre Sizing
Tall and narrow tyres can be seen in Bridgestone's ologic technology, which capitalises on the synergies of a large diameter coupled with a narrow tread design maximising energy efficiency. The result is a tyre that delivers significant improvements in aerodynamics and rolling resistance, while still offering outstanding grip in wet weather conditions.
Combining a large diameter with a narrow tread pattern has several advantages. While the tread on smaller diameter tyres is typically inclined to excessive movement or 'deformation' during driving, the larger diameter and higher belt tension significantly reduce tyre deformation and therefore conserve energy that is otherwise lost through internal friction which helps to reduce rolling resistance. By the same token, the narrow tread concept improves aerodynamics.
World Leading EV Manufacturers & Bridgestone Together
Bridgestone is developing a growing number of original tyre fitments specifically engineered for EVs. EV tyres currently represent 11% of Bridgestone EMIA's total original equipment (OE) line-up for passenger cars – rising from just 4% in 2019. This figure is expected to reach over 20% in 2024.
Already in 2021, 50% of the top 10 EV manufacturers globally chose Bridgestone fitments for their vehicles, and 50% of the top 10 most sold EVs in Europe are fitted with bespoke Bridgestone tyres as original equipment.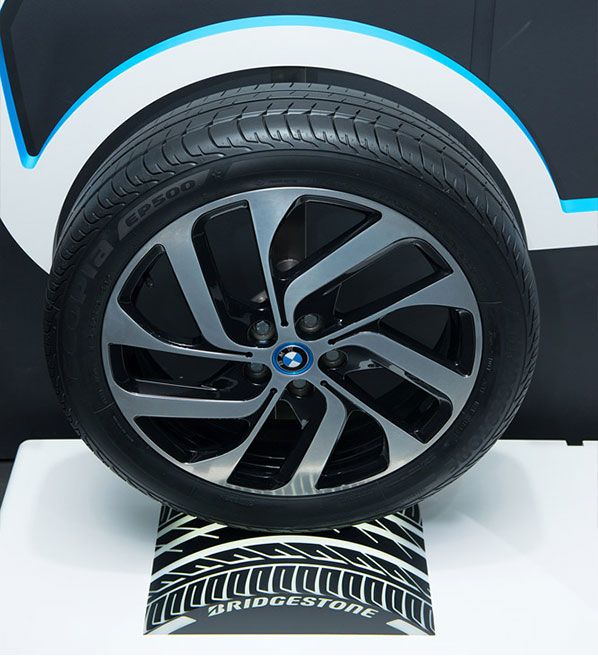 Brands include BMW, Audi, Skoda, Fiat, Mercedes-Benz, SEAT, Volkswagen and Nissan.
EV tyre noise
Electric cars are quieter than diesel and petrol models, because they don't operate on an internal combustion engine (ICE). Legislation now in place means that EV cars should emit a sound at a minimum frequency of 56 decibels, which is about the sound of an electric toothbrush.
Bridgestone closely analyses noise levels of every new tyre to pinpoint adjustments that can dramatically reduce in-vehicle and exterior noise. Bridgestone B-Silent technology, for example, minimizes road noise with a layer of sound absorbing foam fitted inside the tyre, sending fewer vibrations and less noise through the car.
By reducing noise levels, Bridgestone tyres ensure a more peaceful, quieter journey for the driver and passengers, especially in EVs, and less noise pollution for a nicer living environment, particularly in urban areas.
EV tyres vs regular tyres
EV tyres and standard tyres might look similar, but while manufacturers face the same challenges as regular products (cost, longevity, wet-braking, wet-handling, noise etc), there are notable differences:
These include:
Aerodynamics Range is paramount on EVs, so aero drag must be kept low to cleave the air cleanly
Size Tall and narrow tyres are common to reduce the frontal area (as seen in the BMW i3)
Rolling resistance The energy required to keep the tyre rolling must be super-low; EV tyres reduce energy loss through low-drag materials
Durability EVs are heavy and cornering forces re ahigher; so tyres must withstand this extra wear and last longer
Noise, vibration, harshness (NVH) Because EVs are so quiet anyway, refinement takes on extra importance
How to protect EV tyres:
As with standard tyres, motorists can protect EV tyres through regular maintenance. Some simple tips are below:
Tyre tread:
EV tyres should be visually checked for abnormal wear and damage (e.g. cuts, bulges, screws, etc.). If you identify any concerns, get the tyre(s) inspected in more detail by a qualified tyre technician, when safely permitted to do so.
Tyre inflation:
Ensure that the tyres are inflated to their optimum operating pressure. Tyre pressure recommendations can be found in the vehicle handbook or door pillar of the vehicle. Tyre pressures should be checked in cold condition with a calibrated pressure gauge.
Valve caps:
Check that valve caps are of good quality and fitted correctly. The valve cap prevents dirt and moisture from getting in and causing damage to the valve core/stem.
Visual tyre checks:
When safely permitted to travel, check the visual condition of your tyres (e.g. cuts, bulges, screws, etc.) and tyre pressures before your journey. If you identify any concerns, please get your tyres inspected in more detail by a qualified tyre technician immediately.
Original equipment (OE) tyres for EVs Electric Cars
Original equipment tyres are specifically tuned in all areas of performance (such as safety and handling, noise and comfort) to deliver the DNA performance fit for the specification of the exact make and model of the electric vehicle. Tyre designers and engineers spend years developing a single specification tyre, fit for purpose on a particular vehicle make and model.
These tyres have undergone a rigorous testing process to deliver unique performance, with received approval from EV car manufacturers, and meet the demands of electric vehicles, therefore we would highly recommend replacing EV tyres with original equipment tyres.
These tyres perform to the specific demands requested by the vehicle designers and deliver their unique performance characteristics, so we would highly recommend recommending replacing EV tyres with original equipment solutions.