Run flat tyres ensure that a driver can continue to drive their vehicle even with a flat tyre.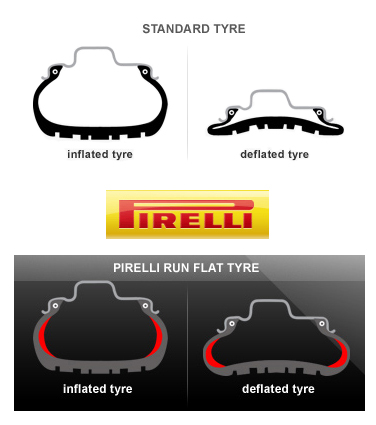 The side walls of the tyre have extra strengthening to support the vehicle weight, when air pressure has been lost.
Run flat tyres incorporate a thicker sidewall made of special heat resistant rubber and reinforced wide bead wire to ensure the tyre remain securely fixed to the rim even at zero pressure.
Please refer to your owners hand book for the distance you can drive on a punctured tyre, as this will vary depending on the number of occupants and luggage. Run Flat tyres can only be used in conjunction with a tyres pressure monitoring system that alerts the driver with a warning light or alarm. The vehicles suspension and set up is matching with the properties of the tyre therefore, mixing would compromise vehicle handling and safety.
Generally, run flat tyre should be replaced not repaired.
The principles of Run Flat tyres remain the same across manufacturers, however the system is referred to by different names.

Bridgestone (RFT) Run Flat Tyre
Continental (SSR) Self Supporting Run Flat
Dunlop (DSST) Dunlop Self Supporting Tyre
Goodyear (EMT) Extended Mobility Tyre
Michelin (ZP) Zero Pressure
Pirelli Eufori@ Run Flat System Component