Bridgestone Weather Control A005 EVO
Weather Control A005 EVO is the latest edition to Bridgestone's all season tyre range that offers outstanding wet grip and enhanced snow performance.
Best-In-Class Wet Grip Index
Qualified snow performance
Superior Wear Life

---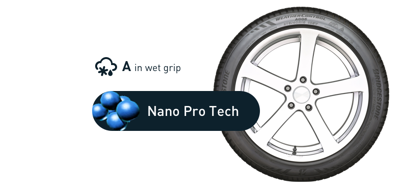 Whether it's stopping suddenly on wet roads or driving safely on the highway during a sudden rainstorm, drivers with Weather Control A005 EVO tyres will have peace of mind. More shoulder elements and high-volume slots in the pattern enable A005 EVO DriveGuard to attain the highest EU Label Grade classification for wet grip.
---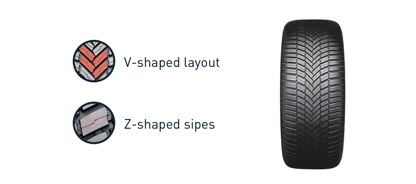 The Weather Control range is for year-round driving, but the A005 EVO contains unique enhancements to support drivers even more in the winter. A renewed Nano Pro-Tech™ compound, V-shaped pattern and innovative sipes work together to help vehicles brake and accelerate faster and gain better traction in the snow.
---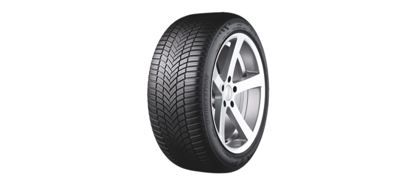 The increased durability of the Weather Control A005 EVO carcass ensures the tyre withstands a variety of weather and road conditions to help drivers keep going with the same tyres all year. The construction also distributes pressure to ensure maximum performance while preventing uneven wear.
---
1 EU Label Grade "A", the highest ranking label for wet grip 2 Certified 3 Peak Mountain Snowflake Marking (3PMSF) Based on the internal tests carried out by Bridgestone vs. Weather Control A005 in Sweden proving ground. Tyre size 205/55 R16 94V. Tractive Force in [5-35 kph] range increased by 3% vs. predecessor. Snow Braking distance in [40-5 kph] range decreased by 3% vs. predecessor. Lateral acceleration increased by 4% vs. predecessor in Snow slalom test at 50kph. 3 Offering the same mileage as our premium summer tyres Same mileage potential of its predecessor vs our premium summer tyres. Based on the internal tests carried out by Bridgestone vs. Weather Control A005 in indoor Lab. Tyre size 205/55 R16 94V. Tyre life depends on driving style, tyre inflation pressure, tyre and vehicle maintenance, weather condition, etc.