No tyre too big or small for ETB Newport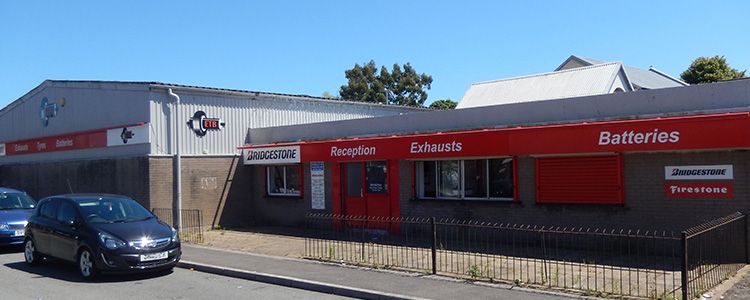 ETB Newport is celebrating after becoming one of the first depots in the city to cater for commercial and consumer tyres, from popular car products right through to a 42-inch tractor tyres.
With three commercial tyre fitters to deal with the biggest truck, off-road and agricultural tyres - and another three technicians to fit every passenger tyre on the market - the team is South Wales' go-to destination for motorists and commercial fleet operators alike.
Since taking the helm as depot manager four years ago, Gavin Stevens has overseen an impressive upturn in fortunes along Frederick Street, with regular customers coming back to the forecourt, coupled with a number of new faces – and vehicles.
"It just comes down to common courtesy from our side, honesty, and keeping our customers happy every time they drop in," he said.
"It is a pretty simple formula and one that is continuing to serve us well. We offer just about every automotive service out there, including MOT testing and all manner of mechanical assistance."
There is seldom a quiet day in the depot between the commercial and consumer teams either, with levels of 'banter' at a continual high.
Gavin added: "The commercial fleet support guys are always telling us how much more difficult their jobs are than ours. Clearly the size of a tyre is proportional to the size of a technician's ego!
"We do have a good laugh! It's important that we have a great team spirit and good friendships. I think it can rub off on our customers too, who can see us enjoying what we do."
For more information about ETB Newport, visit http://www.etbtyres.co.uk/newport/
ETB Newport in brief:
Address: ETB, Frederick Street, Gwent, NP20 2XJ,
Depot manager: Gavin Stevens
Members of staff: 6
SPECIAL OFFER 1: 205/55/16 91V premium Bridgestone tyres £54.99; Quality budget tyres, e.g. - 155/70/13 75T from just £24.95
SPECIAL OFFER 2: MOT for just £19.95 when you purchase two or more premium tyres. Ask in store for your voucher
Services: Tyres, MOTs, servicing, exhausts, engine diagnostics, repairs. ETB Newport is also an official Bridgestone Partner, offering the very best in commercial vehicle fleet support including 24/7 breakdown assistance
Contact number:
01633 266 435